Anthony Shaia, DDS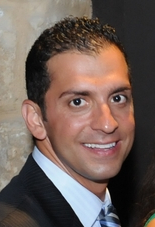 Dr. Anthony Shaia graduated from The Ohio State University Dental School in 2000. He completed a General Practice Residency at Miami Valley Hospital, and he has received advanced training in implant dentistry, laser dentistry, and IV conscious sedation. Prior to attending dental school, Dr. Shaia attended St. Ignatius High School and John Carroll University, where he earned a bachelor's degree in biology. While he has been practicing dentistry for almost 15 years, he remains committed to regularly furthering his education in the dental field. Dr. Shaia is dedicated to providing our patients with the highest quality of dentistry and he works hard to make their experience as comfortable and painless as possible. He has a true passion for dentistry that motivates him to continually strive for better, newer techniques.
Dr. Shaia is married, and his wife is a dentist as well. She was valedictorian of her dental school and will be completing a residency at St. Elizabeth's in Youngstown, Ohio. Dr. Shaia also has an older brother and younger sisters. His hobbies include golfing, fantasy football, skiing, basketball, and working out.
Meet Our Team
At Shaia Dental Care, our team is committed to providing you with an exceptional dental experience. Every member of our team is caring, educated, skilled, and friendly. We work hard to ensure that your visit is comfortable and pleasant. To learn more about us and Dr. Anthony Shaia, our dentist in Parma Heights, Ohio and Middleburg Heights, Ohio, we welcome you to call or visit our office today. We look forward to caring for you!
Roseann – Registered Dental Hygienist
Roseann has been part of our team at Shaia Dental Care since March 2010. She attended Cuyahoga Community College, graduating in 1982; out of 50 hygiene students, she was voted "Miss Congeniality." Roseann's favorite part of working at our practice is the great staff. She also enjoys the opportunity to meet and get to know a variety of people and help them with their individual oral care needs. Roseann gets the biggest thrill from seeing even slight improvement when needed. She is very caring and compassionate, not just about oral health but about our patients as people. Roseann strives to be very gentle and thorough in helping patients realize that their oral care is related to the overall health of their body. She feels very blessed to be doing what she loves because, "A healthier mouth for a healthier you."
Roseann has been married to her husband, Denny, for 38 years. They have two adult children, Kyle and Rheanna. Roseann loves being outdoors, biking, hiking, and gardening her organic garden of 35 years (she has been a vegetarian for 24 years) and a yard surrounded with flowers. She also has an herb garden at her church's community garden for the Parma Hunger Center. In her free time, Roseann enjoys reading, doing crafts, and spending time with her family.
Gretchen – Registered Dental Hygienist
Gretchen joined our practice in 2007. She graduated from the dental hygiene program at the University of Pittsburgh School of Dental Medicine with a certificate in dental hygiene in June 2003. Gretchen strives to provide the best treatment and care for our patients, and she enjoys educating our patients on proper oral care and what the best treatment options are for overall good oral health. Outside of the office, she enjoys golfing.
Veronica – Dental Assistant
Veronica has over seven years of experience in dental assisting, and she has been working with our dental practice in Parma Heights, Ohio, for five years. She graduated from BHS in 2002 and attended the dental program at the Medina Career Center. Veronica enjoys working at our office because she is able to be part of a great team and she loves helping our patients achieve their healthy dental goals. She is a patient, understanding person, and she works hard to help our patients feel comfortable. Veronica has a ten-year-old son named Shane. When she isn't working to improve your smile, she enjoys gardening, camping, hunting, quading, swimming, and horseback riding.
Cory – Dental Receptionist
Coralee has been part of our dental team for over six years. Her favorite part of our practice is working with our patients. In her free time, she loves working with animals and reading.